I am delighted and grateful to report that donors to the University of Michigan made cash gifts and pledge payments this fiscal year totaling a record $440.6 million, up 10 percent over last fiscal year. Giving by corporations hit $47.8 million, up 101 percent from last year. Realized bequests were up 65 percent over last year to $63.5 million. We appreciate that when donors include the university in their estate plans, they demonstrate an impressive trust and belief in the university. Gifts from associations and other organizations were up 17 percent, reaching $32 million. Of particular note, 125,053 donors made gifts to the university this year. Of those, 116,299 made gifts of $1,000 or less, demonstrating that gifts of all sizes, in the aggregate, make great things happen.
Victors for Michigan Campaign
We have passed the midway point, chronologically, of the Victors for Michigan campaign, launched publicly in 2013 with a goal of raising $4 billion, including $1 billion for student support for scholarships, fellowships, internships and global study. The generous gifts from donors this fiscal year, added to previous years' gifts, have resulted in an impressive record of donor support for the campaign:
Donors have given $3.5 billion, 87.5 percent of the $4 billion goal.

$601 million from donors designated for student support.

310,683 donors.

258,000 donors, 83 percent of all donors, made gifts of $1,000 or less.

18,350 faculty, staff and retirees have given $129.3 million, a 25 percent participation rate—a tremendous commitment from people who give their talents every day through their work and then give again through their gifts.
5,500 students have given a total of $1.1 million.
Students also raised $2.75 million for causes they are passionate about at the university, such as the C.S. Mott Children's Hospital, scholarships, recreational sports, marching band, student publications and many others.
---
National Campaign Leadership Board
Campaign Chair
Stephen M. Ross (BBA '62, LLD Hon '11)
hidden
hidden
Campaign Vice Chairs
Rich Rogel (BBA '70, LLD Hon '09)
The late A. Alfred Taubman (Taubman College '48, LLD Hon '91)
Ambassador Ronald N. (ret.) (BBA '66) and Eileen L. Weiser (MMus '75)
Helen Zell (AB '64, LHD Hon '13)
Campaign Deputy Chairs
Donald C. (BSE IO '55, MSE '56, DEng Hon '09) and Ingrid A. (BSDes '57) Graham
Penny W. (BSDes '66, TeachCert '66) and E. Roe Stamps
Campaign Steering Committee
The late Bert Askwith (AB '31)
The late J. Robert (BSE '45, MS '47, PhD '50) and Betty J. Beyster
Jeff T. Blau (BBA '90)
Paul W. (BBA '86) and Amy A. Blavin
William K. (BS '50, MS '52, LLD Hon '13) and Delores Brehm
Robert M. (BSE IO '63) and Susan C. (AB '63) Brown
Karen W. Davidson (BGS '89)
Frances (ABEd '64, TeachCert '64) and Kenneth (AB '64) Eisenberg
David S. (BGS '85) and Joan E. (AB '87) Evans
Nathan (AB '85) and Catherine Forbes
Sidney and Madeline Forbes
Stanley D. Frankel (AB '63, MBA '64)
Judith C. (ABEd '59, TeachCert '59) and David G. Frey
J. Ira (BBA '59, LLD Hon '12) and Nicki Harris
Mike J. (BBA '72) and Sue M. Jandernoa
David B. (BBA '89) and Meredith H. (AB '92) Kaplan
Bryan P. (BBA '73, MBA '75) and Kathleen M. (ABEd '72, TeachCert '72) Marsal
Michele D. May (BBA '74) and David R. Walt (BS '74)
Douglas F. Meijer (BBA '76)
Hank (AB '73) and Liesel (AB '89) Meijer
Paul M. (AB '74) and Susan B. (BSN '74, PhD '82) Meister
Peter C. (BS '74, MBA '81) and Carolyn P. Mertz
Jane C. (BBA '86, MAcc '86) and Daniel S. Och
Mary L. Petrovich (BSE IO '85)
Sanford R. (BBA '53, MBA '54, LLD Hon '15) and Jeanne Robertson
Susan Rogel
Stephen W. (MBA '70) and Karen Sanger
Lizzie S. (AB '94) and Jonathan M. Tisch
Jim Wigginton
---
Endowed Gifts for Student Support
Over many years, donors have made endowed gifts for student support. The university's prudent management of the endowment has resulted in significant support for thousands of students each year.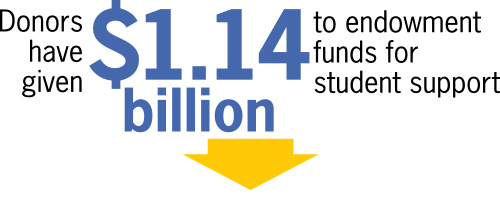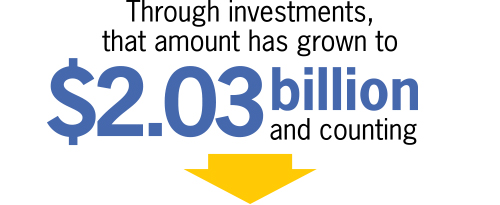 The Impact of Donors
Donors make extraordinary things happen at U-M through their philanthropy, impacting research and patient care, solving societal problems and providing our students with extraordinary intellectual experiences. Here are a few examples of the impact donors have made:
Growing up in foster care in Warren, Mich., Joseph Sedlak had little guidance about college, save for a sister who told him getting an education was important. He listened to her and applied to the University of Michigan, with no idea of how he would pay for it. He was admitted and given a Blavin Scholarship, created by Paul (BBA '86) and Amy Blavin in 2006 for students from foster care. Along with funding, the Blavin Scholarship provides an extensive safety net with support services, counselors and academic guidance. Joseph is convinced that he never would have been able to succeed without it. Thanks to the Blavin Scholarhip and his own hard work, Joseph graduated from the University of Michigan and is now enrolled in Harvard Medical School.
"Donors make extraordinary things happen at U-M through their philanthropy, impacting research and patient care, solving societal problems and providing our students with extraordinary intellectual experiences."
Charles Munger (LLD Hon '10) had a vision for higher education—to bring graduate students from different disciplines to live together and learn from each other. His gift of $100 million for a residence where this could happen, along with $10 million for fellowship support for exceptional graduate students, made the opening this year of the Munger Residences a reality. Students living with students from other disciplines have had an enlightening experience. A dental student, who had not met any students outside of the School of Dentistry in his first two years, roomed with a student from the Stephen M. Ross School of Business, a School of Public Health student and a School of Social Work student. He talked about the business side of dentistry with his roommate and learned about the economic inequalities that made dental care impossible, gaining an entirely new perspective on being a dentist. It's a powerful lesson, repeated in different ways throughout the facility and made possible by a donor's vision.
Sidney and Madeline Forbes want to eradicate cancer. With their family, they have created the Forbes Institute for Cancer Discovery, to encourage scientists across the university to undertake high-risk, high-reward research to drive new advances in cancer research. Building on the exceptional work being done in U-M's Comprehensive Cancer Center, one of only 45 centers in the country so designated, they are providing $17.5 million to make discoveries and treatments available to patients and they will lead a fundraising effort to secure more funds for this research.
"We have many more stories of the impact donors to the university make every day. We are humbled by your generosity, inspired by your belief in the university and renewed by your loyalty."
After a spectacular renovation and expansion, made possible by many donors including lead donors William (BS '50, MS '52, LLD Hon '13) and Delores Brehm, the Earl V. Moore Building in the School of Music, Theatre & Dance reopened to great reviews last fall. The Brehm Pavilion, a 34,000-square-foot expansion, impacts everyone connected to the school—students who have more practice spaces, faculty who have improved studio spaces for teaching and the public who come to welcoming concert spaces for free concerts by students, faculty and visiting artists. Donors to the project include the Cohen Family Fund of the Community Foundation for Southeast Michigan; Chip Davis (BMus '69); Charles H. Gershenson Trust; H. David Kaplan (AB '56); Milton and Carolyn Kevreson Trust; Herman Miller Cares; James A. Read (AB '71); the Schwartzberg family; Glenn E. Watkins (AB '48, MMus '49); and an anonymous gift in honor of U-M Regent Katherine White.
An initial gift of $450,000, plus future funding from the estate of William "Bill" Stamelos, husband of the late UM-Dearborn art lecturer and accomplished artist Electra Stamelos, will fund the initial design, planning and partial construction costs of a new art exhibition space—the William and Electra Stamelos Gallery on the Dearborn campus. Stamelos will also give his entire, extensive collection of artwork from around the world. A retired engineer, skilled photographer and stained-glass artist, Stamelos has also supported the Berkowitz Gallery as a donor and volunteer. He was married to Electra for more than 50 years.
The new gallery on the first floor of the Mardigian Library will enhance the art exhibition experience and serve the university's academic mission by providing greater access to the university's art collection and more opportunities for educational programming for students and the community.
An addition to UM-Flint will provide a permanent home for the growing School of Management and significantly increase the available on-campus housing.
Riverfront Residence Hall and Conference Center, a 15-story, 306,000-square-foot building, is a gift from the Uptown Reinvestment Corporation with support from the Charles Stewart Mott Foundation. The facility opens up recruiting opportunities for UM-Flint, adds yet more life to a newly vibrant downtown and reinforces the university's already strong commitment to the city.
We have many more stories of the impact donors to the university make every day. We are humbled by your generosity, inspired by your belief in the university and renewed by your loyalty.
Thank you.

Jerry A. May
Vice President for Development