U-M launches Wolverine Pathways and HAIL Scholars programs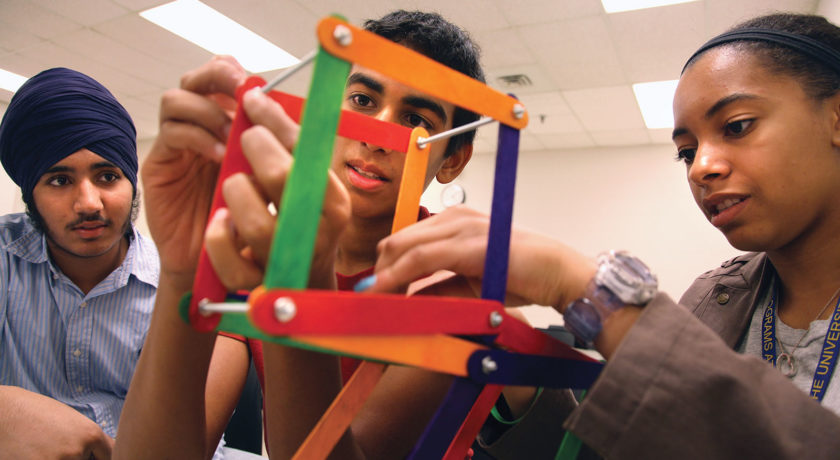 January 2016 was the launch month for a bold, new educational initiative designed to help students in targeted Michigan school districts get ready to continue their education at U-M. Initially, Wolverine Pathways will be offered at no cost to students and families in Ypsilanti and Southfield. Each student who successfully completes Pathways and is admitted to U-M will be awarded a full-tuition scholarship for four years.
The Pathways program will be presented in eight-week sessions during the fall and winter and feature hands-on and project-based learning activities that integrate core English-language arts, math and science content. There also will be a summer session that includes learning activities, field trips, campus visits and internship opportunities.
Applicants need to have a 3.0 or higher grade point average, participate in extracurricular activities, be involved in community service and plan to attend college. Parents also are expected to participate in the program.
Another program, the HAIL (High Achieving Involved Leader) Scholars, launched in fall 2015 aims to test a new approach to connecting with high-achieving, low-income students across the state—with the goal of enrolling more of them on the Ann Arbor campus.
The approach involves offering a unique package of admissions information, including a step-by-step guide for applying to U-M and vouchers providing free access to key portions of the application process. For those students who apply and are admitted to U-M, the payoff is huge: A HAIL scholarship that provides four years of free tuition and required fees, a $60,000 value.
The new materials were offered to a cohort of high-achieving, low-income Michigan high school seniors in fall 2015 and 2016. Students will be selected for the HAIL initiative based on their financial need and early indications of their likelihood to be competitive in the admissions process. The students must apply and be admitted to receive the scholarship.