Warde Manuel named director of intercollegiate athletics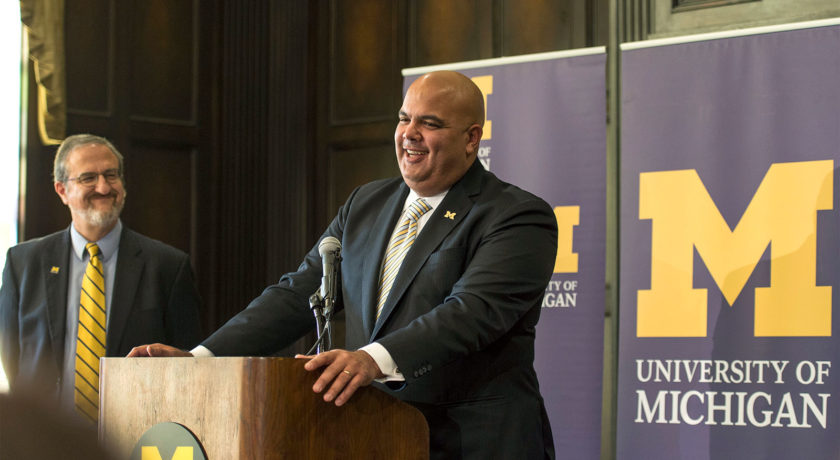 Warde Manuel was named the Donald R. Shepherd Director of Athletics (A.D.) at the University of Michigan in January 2016.
Manuel, a U-M alumnus who played football under Bo Schembechler, had been the director of athletics at the University of Connecticut. His five-year appointment began on March 14.
"Athletics plays a key role in the U-M community and beyond. It is a front door to the many activities and values of our community," Schlissel said. "Warde Manuel knows how to succeed in the classroom, compete on the field and positively contribute to the social fabric of a vibrant university."
"It is great to be home."

– Warde Manuel, director of athletics
The announcement makes Manuel Michigan's 12th athletic director in 150 years of intercollegiate athletics at the university. U-M has 31 teams and more than 900 student athletes.
"I chose to accept this offer for the same reason I committed to Bo 30 years ago this week. … There is no finer place than this Michigan of ours," Manuel told the media, coaches, regents, faculty members and other U-M leaders that packed the Michigan Union's Kuenzel Room.
"It is great to be home."
Under his administration, and working with U-M's coaching staff, Manuel said, "We are going to focus on having our student athletes compete in the classroom, compete on the field of play with a goal of winning championships, grow as great young people who will graduate from Michigan to make an impact in the world—do all of that within the rules, and have fun in the process."
The A.D. reports directly to the president and serves as a member of the university's executive leadership team. The self-supporting department has an annual budget of $151 million and a staff of 350.