Development Highlights
July 1 2010–June 30, 2011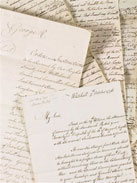 "Henry Strachey served as secretary to the British delegation to America from 1775 to 1776, trying to negotiate a peace between England and the American colonies. These manuscripts will be a gold mine for scholars of the American Revolution. The Strachey papers give researchers another great reason to come to Ann Arbor."
— J. Kevin Graffagnino, Director of the Clements Library
Dozens of individuals, foundations, and corporations contributed to match an anonymous donor's $150,000 challenge gift to purchase papers from the Sir Henry Strachey Collection and complete the library's Strachey holdings.
"Because of support from the Istock family's scholarship fund, I was able to focus my time and energy on my one true goal in school: to continue my professional and personal evolution as an informed and engaged educator."
— Amanda Ruud (AB '06, CERTT EDUC '11)
"The high cost of grad school can limit your career path because you have to worry more and more about salary. Having received the Istock Scholarship, I have more flexibility to pursue my dreams. And for that, I am very grateful."
— David McCarty (MBA '11)
"The Brehm Scholarship motivated me to do well in high school, and I can't thank the Brehms enough. The other Brehm scholars and I are very fortunate to be given this opportunity, and we're all trying to make the most of it."
Senior Hussein Hamid is president of the Brehm Scholar Society. Since 2008, he and 30 other graduates of Fordson High School in Dearborn have received full-tuition scholarships funded by William K. (BS '50, MS '52) and Dee Brehm. Brehm Scholars who graduate from the university are also eligible for four more years of funding if admitted to the U-M Medical School.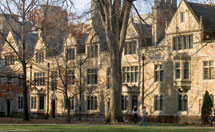 "The Lawyers Club is a central aspect of the Michigan Law experience—where students meet, study, eat, interact, and learn together. This gift is an invaluable contribution to future students who will begin their legal careers in its rooms and halls."
— Ben Able (2L)
"It's a much-needed and much-appreciated gift that will help make the inside of the Lawyers Club just as amazing as the outside. I can honestly say I'm jealous of future students who will get to enjoy it in a finer form."
— Zach Zollinger (2L)
Law School students will have greatly improved housing facilities in the 86-year-old Lawyers Club—including new roofs, safety features, energy efficiencies, and interior renovations—thanks to a gift from Charles T. Munger (HLLD LAW '10).
"The aim of the Initiative is to provide an in-depth exploration of sound financial decisions and personal accountability. Throughout the year, related efforts are being organized that foster the campus and community's understanding of financial literacy as it impacts businesses and individuals."
— Hei-Wai Lee, Professor of Finance, UM-Dearborn
The Betty F. Elliott Initiative for Academic Excellence was launched in early 2010 by the University of Michigan-Dearborn's College of Business as a campus-wide exploration of critical business issues. With global economic crises, bankruptcies, and bailouts continuing to make headlines, financial literacy was chosen as the 2011–12 theme.
"The Richard Gilder American History Scholarship offers me the financial stability needed to pursue my degree. My heart is overcome with gratitude toward the Rachor Family Foundation for making it possible."
— Anthony DeOrnellas, UM-Flint
The Rachor Family Foundation funds 18 scholarships at UM-Flint.
"Uganda was an amazing experience, and it simply would not have happened without the funding I received. It's been eye opening to see how the vast majority of the world lives."
Chris LaFond (BS '04, MPH '06) spent four months analyzing HIV treatments thanks to the President's Global Challenge.