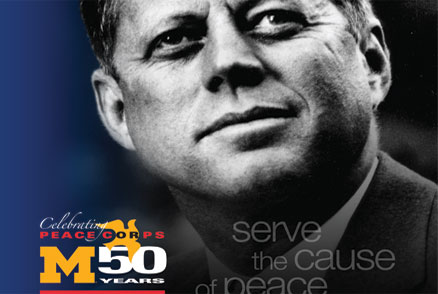 Leadership & Service
Peace Corps Celebrates 50th Anniversary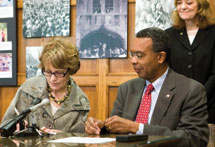 Well after midnight on October 14, 1960, presidential candidate John F. Kennedy arrived at the Michigan Union after a long day of campaigning. Speaking from the stone steps at the front of the Union, he challenged the more than 5,000 U-M students assembled there to dedicate themselves to global peace and justice by living and working in developing nations. Inspired by his impromptu speech, hundreds of U-M students signed a petition saying they would volunteer.
On November 6, just days before the election, three carloads of U-M students drove to Toledo, Ohio, to present the petitions to then-Senator Kennedy. On March 1, 1961, JFK, now president, signed an executive order that officially established the Peace Corps, the signature program that has defined international volunteer service for the past 50 years.
"It might still be just an idea but for the affirmative response of those Michigan students and faculty," wrote Sargent Shriver, JFK's brother-in-law and the Peace Corps' first director. Since 1960, nearly 200,000 Americans—including 2,200 U-M graduates—have lived abroad in the service of world peace, making a difference in the lives of others.
To commemorate the U-M origins of the Peace Corps, the university created a special website and hosted a month-long series of events. Among them was a 2:00 a.m. ceremony on October 14, 2010, on the same stone steps of the Union, 50 years to the hour that JFK made his world-changing speech.
To learn more about Peace Corps history at U-M and events commemorating the Corps' 50th anniversary, visit www.peacecorps.umich.edu.
Highlights
U-M is joining with Michigan State University to lead a federally funded effort to help Great Lakes-region residents anticipate and adapt to climate change. The new Great Lakes Regional Integrated Sciences and Assessments Center will focus on agriculture, watershed management, and natural resources-based recreation and tourism.
The Planet Blue Operations Team reported an 8 percent decrease in the amount of energy used for FY 2011 in 52 campus buildings, with a total savings of nearly $4 million annually.
To ensure a healthier environment for faculty, staff, and students, U-M implemented a new smoke-free policy that became effective July 1, 2011. The policy affects all grounds and buildings on the three campuses.
Top managers and staff members gathered at the first-ever StaffWorks Technology and Best Practices Conference to share ideas on how to make technology best serve U-M's core missions going forward.
The William Davidson Institute is partnering with Washtenaw Community College to promote entrepreneurship among students at Al Quds College in Jordan. The goal of the project is to expand job opportunities and foster community development.
UM-Dearborn's community service personnel scholarship program has helped nearly 30 local police officers further their education. The program provides a 20 percent tuition credit for officers pursuing undergraduate or graduate degrees.
UM-Flint earned special recognition from the Carnegie Foundation for the Advancement of Teaching by demonstrating their commitment to outreach, partnerships, and curricular engagement in the greater Flint community.

The Tillman Military Scholars program, which provides educational scholarships for veterans and active service members and their dependents, selected UM-Flint as one of five new partners for service to veterans. G.I. Jobs magazine named UM-Flint as a Military-Friendly School for 2011.
Seeing a growing need for public health professionals, UM-Flint's Department of Public Health and Health Services is collaborating with the School of Public Health (on the Ann Arbor campus) to offer a master's in public health.
The Women's Sports Foundation selected U-M to establish a joint research and policy center. The Women's Sports, Health, Activity, and Research and Policy Center generates interdisciplinary research on issues related to women's sports, health, gender identity, and kinesiology.
In September 2010, U-M held an EarthFest to showcase sustainability efforts taking place on campus and in the surrounding communities. U-M musical and dance groups performed, local restaurants and farms gave out free food, and volunteers participated in a "trash sort," going through a single day's worth of trash from a U-M building to filter recyclables from traditional garbage.
As part of its commitment to sustainability, U-M launched the Sustainable Office Program. Aimed at "greening" the workplace, this program focuses on encouraging sustainable behavior in such areas as energy, water, printer, and copier usage.