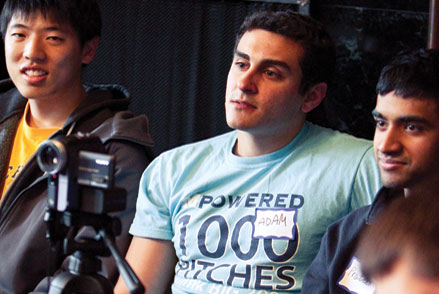 Creativity & Innovation
MPowered 1,000 Pitches
Heated sneakers for cold winters. A mobile app for determining nearby restaurant options. A system for purifying water that doesn't use energy or oil. These were among the 3,031 submissions to the third annual 1,000 Pitches entrepreneurship competition, a contest designed to encourage students to generate and share ideas.
The largest student-run pitch competition in the world, 1,000 Pitches awards $1,000 in prize money to the student with the most innovative business or product idea in each of the following categories: the environment, health, mobile apps, tech and hardware, web and software, social entrepreneurship, consumer products, small business, and MProvements. Since the contest was launched three years ago, the number of pitches has tripled. The competition is one of many events and programs sponsored by MPowered Entrepreneurship, a student-led group focused on inspiring and empowering people to create. In partnership with the Center for Entrepreneurship, MPowered hosts the MPowered Career Fair, an annual job and internship event that brings together U-M students and representatives from small businesses and startups. The group also directs the Peer Mentorship Program, which provides students with mentors who will guide them through the entrepreneurial process.
In April, President Coleman met with 60 MPowered students to provide an update on U-M's efforts to support entrepreneurial endeavors on campus. She praised the group for their inventiveness and ideas and pointed out how unique they are, since many universities have some form of technology transfer office, but not a student-led organization designed to encourage entrepreneurial gusto.
Highlights
In FY 2011, U-M licensed more technologies to companies than ever before. The Office of Technology Transfer recorded 101 licenses and options, researchers reported 322 inventions and filed for 122 patents, and U-M helped launch 11 companies—eight of which have set up shop in Michigan.
U-M opened its Venture Accelerator in January at the North Campus Research Center. The office will provide lab space, office space, and business services for the Office of Tech Transfer's startup companies.
U-M launched the "Innovate!" website (innovate.umich.edu), a refreshed version of the Innovation Economy website originally created in 2009. The site features university innovator profiles and news, reports, resources, and programs.
Marshalling an increasing student interest in the social-impact investment space, the Zell Lurie Institute at the Ross School of Business launched the Social Venture Fund (SVF). The fund trains students to invest in and manage sustainable, for-profit enterprises that respond to societal needs.
CSquared Innovations, a startup project based on technology developed in the labs of UM-Dearborn, won the top prize of $50,000 in the 2011 Clean Energy Prize business plan competition. CSquared Innovations has developed a faster, cheaper, laser-based method of making nano-structured materials and coatings for lithium-ion battery electrodes, solar cells, and industrial coatings.
UM-Dearborn established a Business Experiential Learning Laboratory, a new high-tech classroom in the College of Business that simulates a real-world trading room—complete with a crawling stock ticker, a six-time- zone world clock, and an eight-foot data wall with information streamed from Wall Street. The lab—called The BELL—will provide students with opportunities for hands-on training in an environment similar to what they will find in the business world
U-M history students and Detroit high school students who perform with Mosaic Youth Theatre of Detroit collaborated on a play—Northern Lights 1966. Their original work was performed by the Mosaic troupe at the Detroit Institute of Arts.
U-M researchers have discovered that a protein (Lkb1) known to regulate cellular metabolism is also essential for normal cell division in blood-forming stem cells. This research could lead to new treatments for degenerative diseases.
University researchers have created the state's first human embryonic stem cell lines that carry the genes responsible for inherited disease. The achievement will enable scientists here to study the onset and progression of genetic disorders and to search for new treatments.
The National Science Foundation awarded a $200,000 grant to UM-Dearborn's College of Engineering and Computer Science to acquire leading-edge technologies to establish a plug-in hybrid electric vehicle research and training laboratory.
U-M will establish a new healthcare policy institute to enhance the health and wellbeing of local, national, and global populations through innovative, interdisciplinary health services research. The Institute for Healthcare Policy and Innovation is expected to become one of the largest of its kind in the nation.
In September 2010, U-M launched the President's Advisory Committee on Public Art website (public-art.umich.edu) to provide a single source of information about public art on the Ann Arbor campus. The site features photos and brief descriptions of public artworks, maps for locating them, and information on the application process for submitting proposals for new works.
In February, U-M faculty members Michael Daugherty and Amy Ku'uleialoha Stillman received the music industry's top honors at the 53rd annual Grammy Awards. Daugherty wonåa Grammy for Best Classical Contemporary Composition, and Stillman earned her second Grammy for Best Hawaiian Music Album.
Filmmakers continued to choose U-M for their production destination. Films made on campus recently include The Double, The Ides of March, and Five Years of Engagement. The Ides of March, a political thriller directed by George Clooney (shown here with local actress Talia Akiva), opened the prestigious Venice Film Festival in August.
Top students from the School of Music, Theatre & Dance performed at the Kennedy Center in Washington, D.C., as part of the Millennium Stage Conservatory Project. This program introduces the best young musicians in the country to Washington audiences.
Sponsored by LSA, the theme semester for the fall 2010—"What Makes Life Worth Living?"—invited students and community members to explore this question and the answers offered over the centuries and around the globe.
In April, 40 student ventures were featured at U-M's Student Startup Showcase. Held at the TechArb Student Startup Accelerator, the event celebrated the achievements of student entrepreneurs while connecting them with local venture capitalists and angel investors.