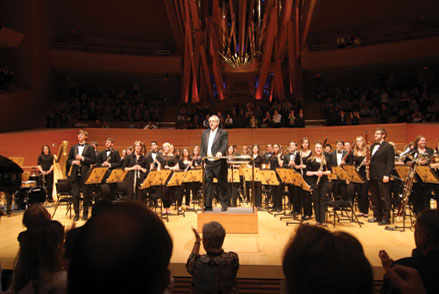 Excellence & Achievement
Symphony Band in China
Fifty years ago, U-M's Symphony Band visited Russia and the Middle East on a pioneering 15-week State Department tour. In May 2011, the band revived this tradition of international cultural diplomacy in support of President Mary Sue Coleman's China initiatives with a 23-day tour with 11 concerts in Hangzhou, Shanghai, Shenyang, Xi'an, Tianjin, and Beijing, closing with a gala performance in Los Angeles in Frank Gehry's Walt Disney Concert Hall.
U-M Director of Bands and Professor Michael Haithcock and 76 student musicians made friends and fans wherever they performed. "The concerts were deeply rewarding, yet the development of trust and understanding was our most important accomplishment. We returned home with a renewed sense of empowerment that the arts do indeed provide a common bond across humanity." said Haithcock.
The band featured new works by four U-M faculty composers: William Bolcom's Concerto Grosso for Saxophone Quartet and Band in which the counterpoint of Johann Sebastian Bach meets the blues; Michael Daugherty's iconic Lost Vegas; Bright Sheng's Shanghai Overture for Band that quotes two traditional Chinese melodies; and Kristin Kuster's Two Jades—a violin concerto inspired by Chinese artworks in U-M's Museum of Art and featuring U-M alumnus Xiang Gao, a Beijing native, as soloist.
School of Music, Theatre & Dance Dean Christopher Kendall summed up the tour saying, "I can't say enough about the performances, on stage and off, of our Symphony Band students. The concerts were consistently brilliant, living up to the observation made by many that this ensemble represents the top
of the form."
Highlights
Five U-M professors were among 180 winners of Guggenheim Fellowships. They are: Arun Agrawal, School of Natural Resources and Environment; Jeffrey Gardner Heath, Linguistics; Mark Sheldon Mizruchi, Sociology and Business; Endi E. Poskovic, Art and Design; and Jennifer Ellen Robertson, Anthropology.
Two faculty members were named to the American Academy of Arts and Sciences. They are: Sharon Glotzer, chemical engineering, College of Engineering; and Scott Page, political science and economics, LSA.
Forty-three students were awarded Fulbright grants for 2010–11, the highest number in U-M's history. Recipients of Fulbright grants are selected on the basis of academic or professional achievement, as well as demonstrated leadership potential in their fields.
Majors and programs focusing on sustainability experienced an explosive growth. Undergrad enrollment in the Program in the Environment more than doubled since 2005, and enrollment in the School of Natural Resources and Environment master's program and the dual-degree (MBA/MS) program offered through the Erb Institute also reached record numbers.
U-M's Solar Car Team won the American Solar Challenge for a sixth North American title. Infinium is believed to be the university's fastest solar car ever, reaching 100 mph in testing.
Research spending at U-M in 2010–11 grew 8.5 percent over the previous year to $1.2 billion, the third straight year the university has surpassed the billion-dollar milestone. Federally funded research spending at U-M rose 10 percent over the previous fiscal year, accounting for 67 percent of total research expenditures.
Six faculty members were honored with Arthur F. Thurnau Professorships for their outstanding contributions to undergraduate education. They are: Amy Cohn, industrial and operations engineering, College of Engineering; Stephen DeBacker, mathematics, LSA; Mika LaVaque-Manty, political science and philosophy, LSA; Barry Rabe, public policy, Gerald R. Ford School of Public Policy, environmental policy, School of Natural Resources and Environment, and environment, LSA; Melanie Sanford, chemistry, LSA; and Colleen Seifert, psychology, LSA.
For the fourth consecutive year, U-M received a record number of applications from prospective freshmen. Overall, there were 31,613 applications for academic year 2010–11, compared with 29,965 in the previous year.
For the 17th consecutive year, U.S. News & World Report named U-M Hospitals and Health Centers one of "America's Best Hospitals." U-M placed 14th overall for the third year in a row and was the only hospital in Michigan to make the national honor roll. The magazine also named C.S. Mott Children's Hospital one of "America's Best Children's Hospitals."
Dr. Eva Feldman, professor of neurology and research scientist at the Medical School, was named one of the "Michiganians of the Year" by the Detroit News for her research on potential therapies for amyotrophic lateral sclerosis and other neurologic diseases.
UM-Flint made The Princeton Review's 2011 edition of its book, The Best 300 Business Schools.
Hundreds of visitors toured the North Quadrangle Residential and Academic Complex during a March 31 Community Open House. The event offered campus and community members an up-close look at North Quad's undergraduate residential spaces, high-tech classrooms and labs, faculty offices, dining hall, and abundant common areas.
UM-Flint was the fastest-growing state university in Michigan, with a 4.6 percent increase in enrollment.