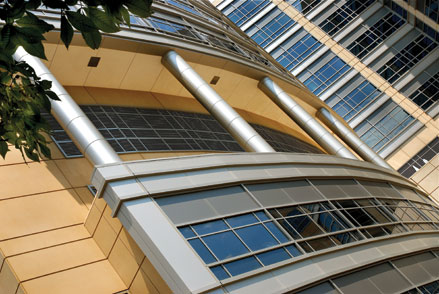 Report from the Vice President for Development
Jerry A. May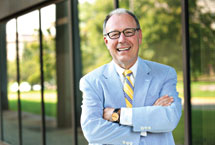 The University of Michigan remains a strong, vibrant, exciting place where students come to fulfill their dreams, researchers explore fascinating topics, faculty ignite curiosity and drive, patients are treated, the arts are celebrated, and great minds address the challenges facing our state and our world. It's truly an amazing place.
All these activities happen, in part, because of the generosity of our donors. And for that we are most grateful.
This year, 116,469 donors, about 5,000 more than in FY 2010, made gifts of cash and pledge payments totaling $273 million, an increase of 7 percent over FY 2010. We were particularly pleased to see that gifts from alumni increased 8 percent over last year. Along with outright gifts, bequest intentions reached $95 million, the highest amount since FY 2005.
Donors add so much to the experiences of our students by providing funds to make a U-M education affordable, international travel possible, and critical resources available.
This year, more than 11,000 students will receive financial aid thanks to donor gifts totaling nearly $53 million for endowed student support and nearly $13 million for expendable student support.
Almost 400 donors so far have made gifts to the President's Global Challenge that matches $1 for every $2 given. Donors contributed $9 million that was matched with $4.5 million. Funds are still available, and we expect to conclude the challenge soon. U-M students are having extraordinary international experiences thanks to the commitment of President Mary Sue Coleman and the generosity of so many people.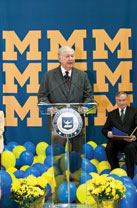 Research support from donors makes astounding results possible. A. Alfred Taubman (HLLD '91) increased his support for the Taubman Medical Research Institute by $56 million, bringing his total commitment to that program to $100 million. This exceptional program now supports 15 scholars including seven Taubman Scholars, four Senior Taubman Scholars, and four Emerging Scholars. Frances and Kenneth Eisenberg, Edith S. Briskin/S.K.S. Foundation, and The Marvin and Betty Danto Family Foundation have joined with the Institute to support these Emerging Scholars who receive this support at a crucial time in their careers when they have identified highly promising, early-stage research projects that are not far enough along to attract the funding that typically goes to established projects. The Taubman Scholars are investigating such topics as breast cancer, Alzheimer's disease, obesity, prostate cancer, liver and pancreatic cancers, muscular dystrophies, kidney disease, ALS (Lou Gehrig's disease), and diabetes.
This fall we are dedicating two amazing facilities made possible by the generosity of thousands of donors—the C.S. Mott Children's Hospital and Von Voigtlander Women's Hospital and the addition to the Law School. Scheduled to open in November, the new hospital facility is a $754 million project with a $75 million fundraising goal, and was the largest construction project in the state of Michigan. Fundraising for the project, led by Athletic Director David (ABED '74) and Jan Brandon and Lloyd and Laurie (AB '86 DRBN) Carr, including events like carwashes, runs, dinners, galas hosted by former U-M athletes and coaches, as well as generous gifts from individuals, has helped the Champions for Children Campaign near its goal. What a testimony to the fact that this facility has been so warmly embraced by the community it will serve!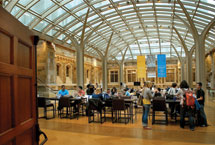 The new Law School building has a stunning presence on State Street. This $102 million project is close to reaching its fundraising goal of $70 million as more than 400 donors stepped forward to make the building a reality with gifts from $10 to $10 million. This new four-story academic and administrative building will provide more space for a student body that has more than doubled—and a law faculty that has more than quadrupled—adding classrooms, clinics, student services, multipurpose spaces, and faculty and staff offices. Across the street, the Law Quadrangle now houses the spectacular Robert Aikens Commons and the Kirkland & Ellis Café with its beautiful glass roof.
Support from foundations reached an extremely high level this fiscal year. Gifts from these organizations totaled $50 million, surpassing FY 2010's total of $39 million by more than 25 percent.
Of particular note was a gift of $10 million from the Wallace H. Coulter Foundation, their culminating gift in support of an endowment for the Department of Biomedical Engineering in the College of Engineering that funds the Coulter Translational Research Partnership to help move biomedical breakthroughs from the laboratory to patient care. This follows an initial contribution of $5 million in 2006. So far the partnership has successfully launched 22 pilot projects and four biomedical startups. Projects have included a nanoscale technology that improves the effectiveness of infertility treatments; a disposable cartridge for rapid testing of bacterial infections; and a painless, non-invasive ultrasound process designed to improve the outcomes of prostate surgery.
Donors make extraordinary things happen. The university is the amazing place it is because of you. Thank you.



Jerry A. May
Vice President for Development