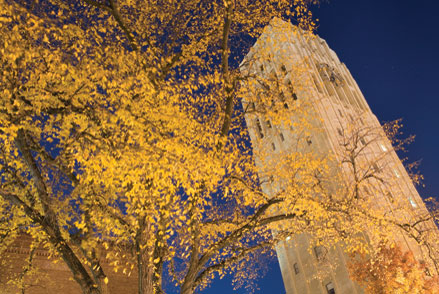 Letter From the President
Mary Sue Coleman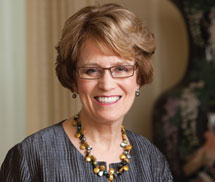 Welcome to the story of the University of Michigan's financial performance this year, in the pages of this annual report. As you read about the university's strong financial position, you will see a vibrant and forward-moving research university with a deep public ethos and a laser-focus on academic excellence. Michigan's prudent financial management and budget discipline, including significant cost-cutting and reallocation from lower to highest priorities, has enabled the institution to remain extremely competitive and operate with stability, even as we continue to wrestle with the country's economic downturn.
The state's economic condition has resulted in significant reductions in the university's appropriation since 2002. However, we have worked together to focus on our priorities: academic quality and continued access to a Michigan education. Philanthropy, too, has played a key role in advancing Michigan's excellence and providing additional scholarship funding for students. Over the past several years, the university has maintained modest increases in tuition and substantially increased need-based financial aid for our students.
We are focused on building and expanding key institutional strengths as we look forward to the university's bicentennial in 2017:
Academic Excellence: The university enjoys remarkable academic breadth and depth with 95 academic programs ranked in the top ten nationally. With more than $1.2 billion in research expenditures in 2010–11, U-M is among the largest research universities in the United States. This year we completed a $30 million, five-year faculty recruitment program to attract 100 junior faculty members with an interest and track record in interdisciplinary scholarship, one of the hallmarks of our academic community. With all of these resources and expertise, we work to deliver a truly transformative undergraduate educational experience, preparing our students for careers in a volatile and quickly changing marketplace.
Public Ethos: The University of Michigan has a deep commitment to the public good, both in the state of Michigan and around the world. This institution holds a special place in U.S. higher education because of its intersection of academic excellence and public ethos, and that culture permeates our community and defines it at its core. I often say that our students and our faculty develop their intellectual assets with the deeply held belief that they can and must make a powerful difference in the world around them. Our service orientation is perhaps nowhere more evident than in the university's seminal role in the development of the Peace Corps. When President John F. Kennedy stood on the steps of the Michigan Union and challenged our students to do something for the good of the world, U-M stepped up to the challenge, and continues to do so today.
Entrepreneurship, Innovation, and Business Engagement: We have built a powerful entrepreneurial ecosystem on our campus, with more than 5,000 students participating in entrepreneurial activities this past year. In 2010–11, U-M's student business plan competition called "1,000 Pitches" garnered three times that, with more than 3,000 student entries for new business ideas. All across our campus, from the Ross School of Business' longstanding Zell Lurie Institute for Entrepreneurial Studies and the Center for Entrepreneurship in the College of Engineering to the Medical School and Michigan Law, students and faculty are creating an entrepreneurial network leading to innovation and an increased commercialization of technologies. With the university's successful Business Engagement Center, we work to develop mutually beneficial relationships with businesses looking for research expertise, student support, and workforce talent.
Sustainability: Michigan is a leader among its higher education peers for sustainability research, teaching, and campus operations. In the last 18 months alone, the university has received federal funding for three national research centers focusing on Great Lakes climate change, solar energy, and clean vehicles, and our academic programs offer more than 640 courses across campus with content in sustainability. The university's own campus operations are modeling our commitment, in construction of LEED-certified buildings, in recycling, and in our highly successful Planet Blue energy conservation program, which annually saves $4 million across campus.
Global Engagement: The University of Michigan hosts one of the largest international student populations of any U.S. university, with almost 6,000 students studying or working on campus. Our ties to global communities are strong and deep, from teams of researchers and students working in Ghana and Liberia to joint institutes with Shanghai Jiao Tong University and Peking University. U-M's relationships with China reach as far back as President James B. Angell, who in 1880 took a one-year leave of absence from the university to serve as U.S. minister to China. In 2011–12 we will celebrate the 50th anniversary of the Center for Chinese Studies—among the most well-known and respected China studies programs in American higher education.
Arts and Culture: Across our campus, cultural and arts activities deepen the educational experience as well as the quality of life for faculty, staff, students, and the community. The U-M Symphony Band experienced this intimately with a broad tour of China, where students performed in six cities, experienced different cultures, and saw how music is a universal language. Creativity and the arts are integral to developing critical thinking skills, and we provide students with numerous avenues to explore. We offer the Creative Process, an intensive course where students use sound, motion, visual images, and language for expression and decisions. The holdings and collections of our 15 libraries and museums are gateways to new knowledge and diverse cultures.
The University of Michigan continues to be a place of bold ideas and actions, and a point of pride for our state and nation. We believe in the power of knowledge, the joy of discovery, and the special compact we embrace to better our state and world. And we look forward to a future filled with novel ideas, transformative research, and public service that improve our world.
Sincerely,





Mary Sue Coleman
President