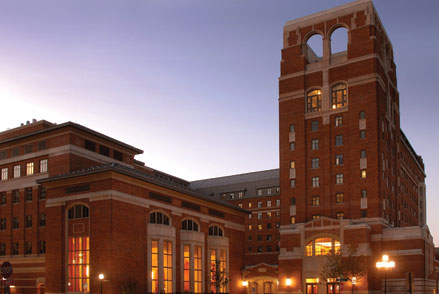 Report from the Chief Financial Officer
Timothy P. Slottow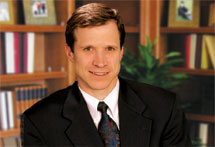 The University of Michigan remains financially healthy, due in large part to the institution's 42,000 faculty and staff who maintain an unyielding focus on the university's core missions as they strive to find new ways to contain costs, maximize resources, and increase efficiencies. As a result of their dedication in building on our strong foundation and tradition of excellence, we continue to have the resources to make strategic investments in the facilities, programs, and people that make our institution one of the best public research universities in the world.
The university continues to maintain the highest credit ratings from both Standard & Poor's (AAA) and Moody's Investor Services (Aaa). These ratings are important indicators of the institution's strong financial health and outlook and are notable in light of the tumultuous economy we've faced for a number of years. U-M is one of only three public universities in the country to maintain these ratings—the highest possible—from both of these agencies.
A disciplined budget approach carefully balances the institution's need to remain competitive against a challenging economic environment. Over the years, we've been committed to innovative cost containment strategies, successful fundraising efforts, moderate tuition increases, and relentless protection and enhancement of the world-class quality of the institution's research, teaching, and clinical care. The success of this commitment, combined with our long-term investment strategy, ensures a strong future for the university.
The university's total net assets (assets less liabilities) increased by $1.6 billion in FY 2011 to $10.9 billion. This increase is primarily due to net investment income, which totaled $1.6 billion. In the following sections, I will discuss the important contributors to the university's overall financial health to provide context to the accompanying financial statements.
Revenue Diversification
Revenue diversification has long been an important strategy for the university to achieve financial stability in light of unpredictable economic cycles. In the 1960s, for example, nearly 80 percent of the university's general fund revenues came from state appropriations, compared to the projected 17 percent in the FY 2012 general fund budget. The current mix of revenue can be seen on the charts below, which show the FY 2011 operating revenue sources with and without the Health System and other clinical activities.
The General Fund Operating Budget Challenge
Although support from the state of Michigan remains a key element in the university's strength, state appropriations have declined significantly since FY 2002. Base state appropriations have decreased from $416 million in FY 2002 to $362 million in FY 2011, a decrease of $54 million, or 13 percent. In contrast, if appropriations had grown at the level of the Consumer Price Index for Detroit, our state appropriations would have been $127 million higher in FY 2011. To put the state's current support in perspective, it is useful to consider that in a stable economic environment, it would take an additional endowment of approximately $7 billion to generate a revenue stream that would equal the current level of state support.
In FY 2012, the university faces a 15 percent—or $54 million—reduction in state appropriations, which is the largest cut in university history. The adopted budget fully absorbs this record cut while limiting the financial burden for students. At the same time, it demonstrates an unwavering commitment to the quality of the institution, both inside and outside the classroom. The general fund operating budget continues, as it has for a number of years, to balance our ongoing focus on academic excellence and access with our long-term cost containment efforts and the need to invest in our future. Multi-year budget planning, prudent management of resources, and our willingness to make tough decisions regarding priorities have enabled us to prepare for—and smooth out—the impact of the current tumultuous financial situation in the state and nation. We have been able to avoid the severe program cuts and double-digit tuition increases experienced by other institutions around the country because of our prudent long-term plan.
A disciplined approach to long-term cost containment is a driving force behind our ability to limit tuition increases, provide more financial aid, and continue to invest in teaching and research. The university's deans, directors, faculty, and staff reduced and reallocated $135 million in recurring general fund expenditures from the Ann Arbor campus budget over the period FY 2003–2009. Further, we have made significant progress over the past year toward our goal of achieving an additional $100 million reduction or reallocation of recurring general fund expenditures over the period FY 2010–2012. And, we're planning to reduce or reallocate recurring costs by another $120 million by 2017.
The approved Ann Arbor campus budget for FY 2012 includes tuition rate increases of 6.7 percent for resident undergraduates, 4.9 percent for nonresident undergraduate students, and 4.9 percent for most graduate programs. Additionally, the Ann Arbor campus budget includes $137 million in centrally awarded financial aid, the largest investment in financial aid in the university's history. Within that, centrally awarded financial aid for undergraduates is increasing by nearly 11 percent, which will help preserve access for our most financially vulnerable undergraduate students.
The approved Dearborn campus budget includes a 6.9 percent increase in undergraduate and graduate tuition rates and a 15 percent increase in institutional financial aid. At UM-Flint, the approved budget includes a 6.8 percent increase in undergraduate tuition rates, a 4.9 percent increase in graduate program tuition, and an 8.8 percent increase in institutional financial aid.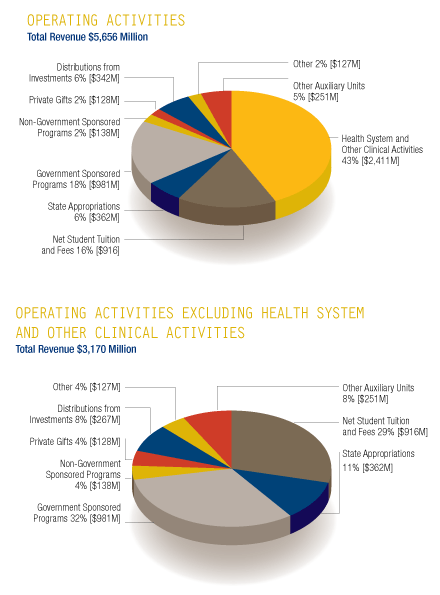 The Health System
The U-M Health System—which integrates the Hospitals and Health Centers, Medical School, Michigan Health Corporation, and a range of shared administrative services under the direction of the university's executive vice president for medical affairs—continues to receive national recognition for its academic and clinical excellence.
Despite continued challenges from the external environment, the Health System had a solid year financially. We take great pride in the fact that the Hospitals and Health Centers have experienced 15 years of positive financial margins, while also improving the quality and safety of the care we deliver to patients. In FY 2011, the University of Michigan Hospitals and Health Centers (UMHHC) achieved an operating margin of 2.7 percent ($53 million) on revenues of $2.0 billion. This margin is a testament to the integrated efforts of team members throughout the Health System to succeed despite challenging times. Once again, UMHHC's success can be attributed to a combination of more patients, more efficiency, more teamwork, and more attention to every factor that affects the bottom line. More specifically, UMHHC saw 3.3 percent more patient activity, in terms of adjusted cases, when compared to the previous year.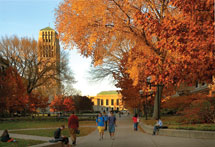 Such growth and financial positioning is crucial as the Health System prepares for the opening of the new C.S. Mott Children's and Von Voigtlander Women's Hospitals in fall 2011, the opening of the renovated emergency department and arrival of new advanced helicopters in winter 2012, and the first phase of the MiChart clinical information system implementation in spring 2012.
At the same time, the Health System faces challenges posed by the state of Michigan's prolonged economic downturn, health care reform, performance-based reimbursement by insurers, and a highly competitive federal research funding environment. UMHHC continued to experience increases in FY 2011 in both the number of patients who qualify for charity care, and those who cannot pay bills for care they have already received. Additionally there was a slight increase in the percentage of Health System patients covered by Medicare, Medicaid, and county health plans, which do not reimburse at the same rates as private insurers.
In FY 2011, the Health System laid the foundation for more cooperation with partners across the state, through the launch of the Pennant Health Alliance for hospitals, the Physician Organization of Michigan for physician groups, and new partnerships with St. Joseph Mercy and other individual institutions, as well as programs designed to optimize the care experience for patients traveling great distances to receive U-M's advanced care, and the physicians who refer them. These collaborative efforts will be more important than ever in coming years.
Growing Research
Total research spending in FY 2011 grew 8.5 percent over the previous year to $1.2 billion, the third straight year the university has surpassed the billion dollar milestone. Thanks in part to research awards attained through the American Recovery and Reinvestment Act, federally funded research spending rose 10 percent over the previous fiscal year, accounting for 67 percent of total research expenditures.
The effort to transform the former Pfizer property known as the North Campus Research Complex (NCRC) into a vibrant multidisciplinary research hub accelerated greatly in FY 2011. By the end of the fiscal year, nearly 800 university and private sector employees had moved into NCRC offices and laboratories, and more than 100 proposals for scientific use of the facility had been reviewed.
The private sector engagement that is a hallmark of the NCRC came into bloom this year, with life science firms Boropharm and Lycera establishing their new corporate homes on the campus, and the opening of the Venture Accelerator to house small U-M-related startups. The move of the university's Business Engagement Center and Office of Technology Transfer to NCRC and the co-location of research support services along with the addition of several "core" research services that can be used by scientists were also achieved in FY 2011. All of this effort sets the stage for the opening of several significant scientific laboratories at NCRC in FY 2012, and provides health services researchers from across U-M a hub for their work in the new Institute for Healthcare Policy and Innovation.
Physical Plant Improvements
The university's facilities serve a wide range of needs, from research efforts and patient care to academics and the arts. With that in mind, we carefully choose which facilities should be renovated or replaced when investing in the university's future.
Over the past decade, the university has invested an average of $497 million per year for renovation and replacement of buildings and related infrastructure. FY 2011 continued this trend, with the university completing more than 247 projects across campus. A number of significant facilities to support the university's ever-changing academic, research, patient care, and athletic functions have recently been completed or are presently under construction.
North Quad Residential and Academic Complex, the first new residence hall constructed at the university in more than 40 years and one of the largest construction projects in university history, opened in fall 2010. In addition to residential spaces for 450 upper-level undergraduate students and classrooms, North Quad has offices for the School of Information and four academic units of LSA—Screen Arts & Cultures, Communication Studies, the Language Resource Center, and the Gayle Morris Sweetland Center for Writing. The facility features 19 state-of-the-art classrooms and three labs, television/video production studios, faculty offices, a dining center, a media gateway, and abundant common areas shared and utilized by all of the building occupants.
The facility is also home to two academic learning communities, the Global Scholars Program and the Max Kade German Program, providing a one-of-a-kind living and learning environment that leverages advanced networking technologies and international programs to extend the university experience to a global perspective. North Quad is a cornerstone of the university's Residential Life Initiatives, a multi-year plan to revitalize and expand the residential experience for U-M students, and to strengthen the connection between living and learning on campus.
In FY 2011, work continued on another of the largest construction projects ever undertaken by the university—the replacement for the C.S. Mott Children's Hospital and the Women's Hospital, the latter of which will be known as the Von Voigtlander Women's Hospital. The new facility, which is slated to open in November 2011, will total 1.1 million square feet with a capacity of nearly 350 beds. It is designed to bridge inpatient and outpatient services within the same medical disciplines to create a seamless approach to patient care. This state-of-the-art facility will help us continue to evolve, transform, and drive the future of children's medicine and pregnancy and childbirth care.
The Endowment
The university's long-term diversified investment strategy is designed to maximize total return, while our spending rule policy is designed to protect and grow the endowment corpus in real terms and provide dependable support for operations.
The Long Term Portfolio's 24 percent return in FY 2011 follows a 12 percent return in FY 2010 and a -23 percent return in FY 2009. The Long Term Portfolio's annualized ten-year return of 9 percent was 2.8 percentage points above the custom market benchmark designed to capture the university's long-term diversified investment strategy and 5.6 percentage points over the undiversified benchmark consisting of major equity and fixed income indices in an 80/20 ratio. The return of the S&P 500 stock index was 2.7 percent over the same ten-year period.
Investment Performance
| | | | |
| --- | --- | --- | --- |
| | Return for the twelve-month period ended June 30, 2011 | Annualized five-year return | Annualized ten-year return |
| Long Term Portfolio | 24.3% | 7.4% | 9.2% |
| U-M's Benchmark | 21.4% | 5.8% | 6.4% |
| Equity/Fixed Income Index (80/20) | 25.6% | 4.1% | 3.6% |
The table above shows the endowment's favorable investment performance relative to its benchmarks. Utilizing a diversified investment strategy has limited the loss of capital in the more challenging years.
The university's endowment spending rule smoothes the impact of volatile capital markets by providing for annual distributions based on a percent of the moving average fair value of the endowment. The spending rule, along with the growth of the endowment, allowed for distributions to support operations of $266 million in FY 2011, for a total of $1.2 billion over the past five years.
The payout from our more than 7,200 separate endowment funds enables us to serve a diverse population, ranging from patients in our Health System to students. For example, approximately $1.9 billion, or 24 percent, of our $7.8 billion endowment is restricted for use by our Health System, where nearly 1.9 million patient visits take place each year. The portion of the endowment available for U-M operations supports the education of more than 58,000 students. About 20 percent of our total endowment, or $1.5 billion, has been set aside for student aid, with 70 percent of our undergraduate students who are Michigan residents receiving some form of financial aid, which includes grants, work-study, and loans. Endowment income also provides key support to the university's research efforts, which have made countless contributions to our global society in areas ranging from medicine and law to the arts and sciences. The average effective annual spending rate from our endowment over the last 10 years, including spending rule payouts and withdrawals from funds functioning as endowment, primarily for strategic capital investment, was 5.6 percent.
Improving Technology
Information technology (IT) is increasingly critical to the university's success. The primary goal of the university's NextGen initiative is to dramatically advance U-M's academic, teaching, research, and clinical programs technology. As a first step, U-M completed the first-ever, comprehensive assessment of Ann Arbor campus information technology during FY 2011. The results of that process led to a set of recommendations aimed at improving the sustainability, cost effectiveness, and alignment of IT services.
The NextGen program office, which was created to prioritize those recommendations and oversee their implementation, has since launched a series of projects to improve IT quality while lowering costs. Current projects underway include the introduction of Google's suite of online collaboration tools, e-mail, and calendaring systems; IT rationalization efforts to consolidate and enhance desktop support, campus networking services, and cloud computing capabilities; and the creation of high-performance computing assets to support research activities.
The university also continues to improve and enhance its enterprise-wide systems. In FY 2011, the university completed the implementation of an automated travel and expense system for faculty and staff. In addition to automating the previous paper-based processes, the more comprehensive data available through the system will assist our strategic purchasing initiatives.
Work is continuing on the Donor & Alumni Relationship Tool, which will replace the university's last mainframe application. With implementation targeted for spring 2012, this new system will enable the university to better manage the entire lifecycle of a gift while improving the efficiency and effectiveness of development business processes.
Controlling Health Benefit Costs
The university remains very attentive to the cost of employee and retiree health benefits. This is an ever-present challenge for organizations across the country. For the university, total healthcare spending for employees and retirees was just over $305 million in FY 2011.
Drawing on the combined expertise of top clinical and health policy faculty and financial experts, we have adjusted the health benefits premium structure over the past eight years to increase the overall contribution toward healthcare coverage made by employees, dependents, and retirees. The initial premium structure changes, which began to be phased in during FY 2004, are now generating cash savings of more than $30 million annually. The most recent adjustment to the health benefit cost sharing structure commenced January 1, 2010 and is being phased in over two years. This adjustment, when fully implemented, will provide a reduction in cash outlays for university healthcare expenses of an additional $31 million annually.
Beyond that, we called on some of the university's national healthcare and health policy experts to form the Committee on Retiree Health Benefits to help us more specifically address the acceleration of benefits costs projected for current and future retirees and their dependents. The committee completed its work and the recommendations to be adopted were announced to the university community in early 2011. The changes will begin taking effect on January 1, 2013 to allow current faculty and staff time to plan for changes in retirement eligibility and the amount of university contribution they will receive during retirement. Projections indicate that these comprehensive changes will yield recurring annual cash outlay savings of more than $9 million by the year 2020 and $165 million by 2040, helping to preserve vital funding for the university's core missions and creating greater opportunity to control the rate of future tuition increases.
Prevention, early intervention, and wellness also help to reduce the pressures on the healthcare system and promote overall control of costs. The university's health and well-being program, MHealthy, addresses these factors with an array of programs designed to support healthy lifestyles, and uses health data to ensure that those programs are targeted to the greatest needs of U-M faculty and staff. University-wide health risk assessments are an important source of such population-specific data on health risk factors.
In FY 2012, MHealthy will offer its fourth health risk questionnaire and second biometric screening to all benefits-eligible employees. These assessments provide ongoing measures of our community's health and offer the university a rich opportunity to understand its greatest community health risks for targeted programs and interventions that improve health and thereby reduce the costs incurred by the university's health plans. Toward that goal, we also have begun considering recommendations from the Member Engagement Health Plan Design Committee about further steps to make the most effective use of incentives, potentially including lower premiums for employees who actively manage their chronic conditions and health risks.
Internal Controls
FY 2011 represents the seventh consecutive year that more than 40 deans and other top administrators from across campus completed an internal control review and certification of internal controls and financial information. This year, we added control guidance for employee travel and expense and use of human subject incentives to the unit certification, which already focuses on other key risk areas such as cash handling, employment, information technology security, conflict of interest, and identity theft prevention.
The launch of the Compliance Resource Center website in FY 2011 strengthened the ongoing work of compliance specialists throughout the university. This website provides a comprehensive overview of the full range of legislative and regulatory compliance obligations that impact activities throughout the university. In addition, it offers faculty and staff practical information to assist with enterprise risk management and self-monitoring while significantly increasing the visibility—and accessibility—of compliance specialists across the institution.
Conclusion
It is, once again, satisfying to receive an unqualified opinion from the university's independent financial auditors (PDF). This opinion signifies that the financial statements present fairly the financial position of the university. The Management Responsibility for Financial Statements (PDF) is my certification of management's responsibility for the preparation, integrity, and fair presentation of the university's financial statements.
I hope you will read Management's Discussion and Analysis (PDF). It provides details on how the university's financial strength, prudent financial policy, and the institution-wide commitment to sustaining the highest level of excellence work collectively to ensure the university's mission is met in the years to come.



Timothy P. Slottow
Executive Vice President
and Chief Financial Officer