Overview
The Mcard is the University of Michigan's single-card program that combines many features including photo identification, library borrowing privileges, building access, meal plans and Blue Bucks, and ATM/debit card access all on one card.
All of the university community is required to have a valid Mcard. Over 110,000 student, faculty, staff, retiree and visitor Mcards are active at the Ann Arbor campus. Some areas on campus require that the Mcard be worn. Badge holders can be obtained at the Mcard Center or the Hospital Key & ID Office if the cardholder is associated with Michigan Medicine. The Mcard Center also provides incoming freshmen and new transfer students who live in University Housing with a cardholder (while supplies last).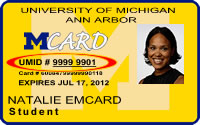 The eight digit UMID number printed on the front of each Mcard is the cardholder's university ID number (e.g., student number, employee number). The UMID number remains with the person as an identifier whether the person is a student or an employee or combination of both.
Mcard benefits
There are added benefits to carrying your Mcard with you such as discounts for students and non-students at many merchants, companies and organizations. See the Discounts page for further information. Current students, faculty, and staff can ride most AAATA fixed bus routes by simply swiping their valid Mcard.
Another great benefit is the ability to obtain financial services with the University Mcard Program partner, PNC® Bank. With your Mcard, you'll be able to receive one of the best deals in town on bank accounts. The PNC Virtual Student Wallet account is available to Mcard holders and combines checking and savings accounts See all of the benefits for Mcard holders.
Dearborn and Flint Mcards
Mcards are also issued at the Dearborn and Flint campuses. In general, cardholders are to obtain their first and replacement Mcards at their respective campuses. Mcards at these campuses may have different services, features, or access than Mcards issued from Ann Arbor campus. The exceptions are when a Flint or Dearborn cardholder also requires 1. after hours or weekend access on general Ann Arbor academic buildings or 2. access to the Michigan Medicine campus. In these situations, the person should obtain a card from an Ann Arbor ID Station (or specifically the Key & ID Office for Michigan Medicine access). The Ann Arbor card will also work for access at Flint/Dearborn campuses.