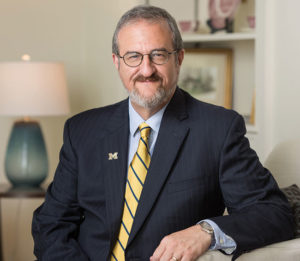 The University of Michigan's 200-year legacy has delivered amazing achievements for the communities we serve. As we embark on our third century, our many strengths position us to provide even more impact.
I believe our future success will be defined in part by our ability to contribute to the solution of society's most daunting problems, bringing to bear the full intellectual might of our academic breadth and depth. Initiatives and new endeavors we have launched in recent years are helping to unleash faculty creativity in innovative ways. Collaborations are driving work in Poverty Solutions, our Humanities Collaboratory, our entrepreneurship programs, our work in Detroit and many others.
More than any other university, we have the potential to be so much more than the sum of our many excellent parts. It's this potential to have a positive impact on the society we serve that represents our greatest value as a university.
The University of Michigan's public ethos has driven our work as faculty, students and staff throughout our history. This report shares some of the details of our activities and highlights the financial strength that gives us the opportunity to realize the breadth of our commitment to society and our mission to advance the public good through research, education and service.
Precision Health
Precision Health at the University of Michigan is a new initiative that will provide unprecedented insights into human health and disease and lead to better treatments for patients. The initiative will support U-M researchers using large amounts of detailed genetic, physiological, behavioral and environmental data to predict and prevent disease or optimize individual treatment.
No other university in the nation can combine strengths in data science, engineering, medicine, public health and several related fields, along with a world-class academic medical center in Michigan Medicine.
Precision Health will unite all of these strengths with innovative technology to improve human health. Our first project will address the opioid crisis that affects millions in our nation and state by investigating how we can better prevent addiction to this type of pain medication.
Affordability and the "Go Blue Guarantee"
U-M has a long-standing and extraordinary commitment to providing need-based financial aid to students seeking to better their lives by studying on our campus.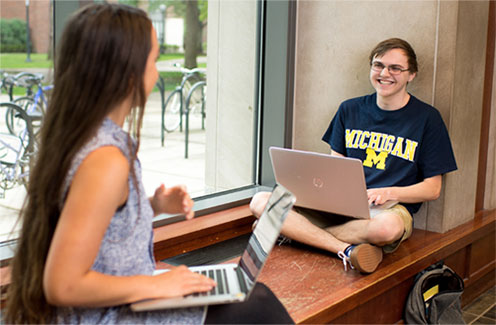 Earlier this year, our commitment to ensuring that qualified students from Michigan can afford a U-M education became the "Go Blue Guarantee." Under this new financial aid program, all in-state undergraduate students from families with an annual income of up to $65,000 will receive free tuition on our Ann Arbor campus, subject to certain limits. This income level is around the median income for families in the state of Michigan. Many students will also be eligible for financial aid to cover books and room and board.
Our commitment to affordability does not end there. Students from in-state families who make up to $180,000 per year often receive substantial financial aid from U-M.
I have always believed that talent is ubiquitous in our society, but opportunity most certainly is not.
I have heard from far too many throughout our state who don't pursue a U-M education because they feel they can't afford it. These are Michiganders from Marquette to Detroit, to Grand Rapids, Owosso and Ypsilanti. The "Go Blue Guarantee" is an innovative financial program for all of them, and for every student in Michigan who dreams of a U-M education, applies and is admitted.
I have always believed that talent is ubiquitous in our society, but opportunity most certainly is not. We want every qualified student to feel that a University of Michigan education is within their financial reach.
Our commitment to financial aid speaks to the importance the Board of Regents places on supporting students. This priority is reflected in the hearts of our donors, and in the details of our budget, through increases in financial aid for students.
Financial Strength Drives Excellence and Affordability
The University of Michigan is able to invest in student support and leading academic programs because of our strong financial position. The Chief Financial Officer's Report includes additional details and highlights.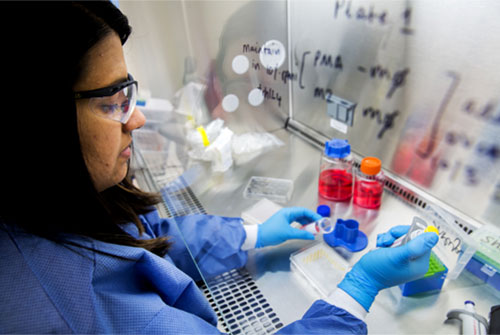 Our nearly $1.5 billion in research expenditures is tops among all public universities in the nation. The continuing growth of our research volume, despite challenges in the sector and ever-increasing competition for funds, results from the quality of our faculty, our culture of cooperation across disciplines and our ability to partner with the private sector.
Fiscal discipline remains a primary focus of our budgeting, including controlling costs, seeking greater operational efficiencies and reallocating savings to academic priorities. We also never lose sight of our goal of restraining growth in tuition.
The success of our Victors for Michigan campaign is described in the report of our Vice President for University Development. Our donors help us to achieve greater levels of success all across our three campuses and Michigan Medicine.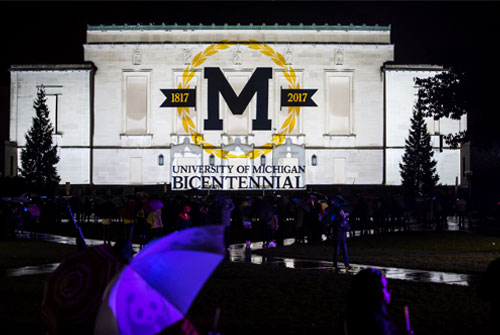 Keeping U-M's high-quality education affordable depends on all of these essential elements — cost control, increasing financial aid, tuition restraint and philanthropy — along with what we hope will be a continuation of reinvestment by the state in higher education.
This year, the University of Michigan devoted many of our bicentennial activities to examining the future of our great public university. I look forward to collaborating with all members of the Michigan family as we aspire to higher levels of excellence in the years ahead.
Sincerely,

Mark S. Schlissel
President