U-M President honored for "Go Blue Guarantee"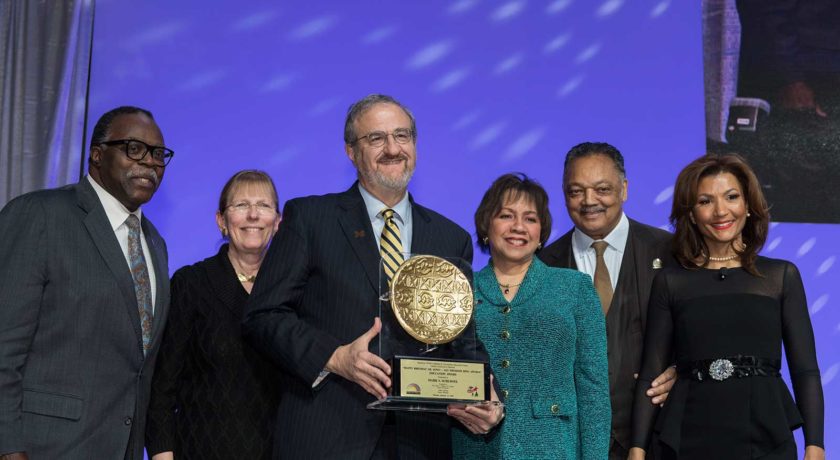 University of Michigan President Mark S. Schlissel was honored by the Rainbow PUSH Automotive Project for making college more affordable through the introduction of U-M's "Go Blue Guarantee." The Guarantee, launched in 2018, offers four years of free tuition for in-state students from families with an annual income up to $65,000.
"At Rainbow PUSH, we are pleased that under your leadership, the University of Michigan has notched up in promoting education that is not only collaborative, creative and interdisciplinary but also affordable," said the Reverend Jesse Jackson, Sr., president and founder of the Rainbow PUSH Automotive Project, founded in 1998 to promote full and equal participation in the economic growth of the global automotive industry for people of color.
President Schlissel was one of four recipients of the inaugural Let Freedom Ring Awards, which pay tribute to the late Reverend Martin Luther King, Jr., for his legacy in uplifting the human condition. An awards ceremony was held in January 2018 at the Cobo Center in Detroit on the Martin Luther King, Jr. holiday, and as part of the North American International Auto Show.
"As a physician-scientist, professor and university president, I believe wholeheartedly that talent is ubiquitous in our society, but opportunity most certainly is not," President Schlissel said. "I appreciate Reverend Jackson and the Rainbow PUSH Automotive Project for their outstanding commitment to ensuring equal opportunities for all members of our communities. Their crucial work is an inspiration to all who value education, social justice and equality."
President Schlissel was also honored for his proactive work in the area of diversity and inclusion on the Ann Arbor campus.