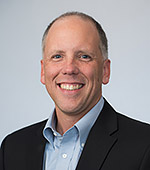 Human Resources Officer
Steve Reck is the human resources officer for the Finance division, Shared Services Center, and several executive offices at the University of Michigan.  His responsibilities include classification and compensation, performance management, training and development, institutional equity, employment, and employee relations.
Prior to joining the University of Michigan, Reck served in various human resources and labor relations roles in the automotive industry, for companies such as  Ford Motor Company, Visteon Corporation, and most recently the Ford owned Automotive Components Holdings, LLC where he supported the divestiture of several components businesses.
Reck received his bachelor's degree from the University of Michigan and earned a master's degree from Michigan State University in labor and industrial relations.