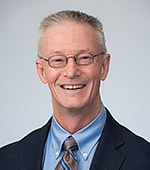 Tax Director
Edward J. Jennings is the tax director at the University of Michigan. His responsibilities include providing tax planning and compliance services in addition to resolving conflicts with the Internal Revenue Service (IRS) and other state and local taxing agencies on behalf of the university and its affiliates.
He serves on the Taxation Council of the National Association of College and University Business Officers (NACUBO) which he chaired from 2010 through 2012. He also serves as a member of the Planning Committees for the Higher Education Tax Institute (HETI) and for the Treasury Institute for Higher Education Tax Exempt Bond Compliance Workshop and speaks frequently at these and other conferences for nonprofit organizations. He served as a member of the IRS Information Reporting Program Advisory Committee (IRPAC) from 2006 until 2008.
His articles "The Taxation and Reporting of Distributions Derived from Licensing Intellectual Property" and "Managing the Tax Consequences of Alternative Investments" appeared respectively in the March/April 2004 edition and the July/August and September/October 2006 editions of Taxation of Exempts. He is the recipient of the NACUBO Tax Award for 2007.
He graduated from St. Joseph's University in Philadelphia, Pennsylvania, with a B.S. in Accounting and from Wake Forest University School of Law in Winston-Salem, North Carolina, with a J.D. He is licensed as a CPA and holds bar licenses in the states of North Carolina and Illinois.