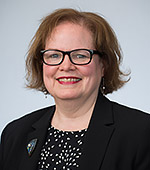 Assistant Vice President for Finance—Sponsored Programs
Debbie Talley is the assistant vice president for finance—sponsored programs at the University of Michigan. The Sponsored Programs area manages the post-award activities of the university's research enterprise and other sponsored activities to ensure compliance with applicable federal, state, and local laws, and sponsor regulations. The university receives over $1 billion annually in revenues from various government agencies and private sources for sponsored programs. Beyond leading Sponsored Programs, Talley assists the associate vice president for finance with a variety of day-to-day operations in Finance, including communications and human resources.
Talley has been working in the accounting field for 40 years. She joined Finance nearly 30 years ago and has held a variety of positions in the division over the years. During her career in Finance, Talley has had an integral role in a variety of important Finance and U-M initiatives, including implementing PeopleSoft, reorganizing Sponsored Programs to better serve its customers, working on the university's financial statements with the controller and external auditors, streamlining financial processes to make them more efficient, and leading the shared services finance project team. Talley has a BBA in accounting from Eastern Michigan University.