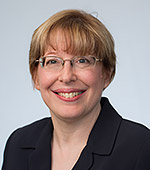 Assistant Vice President for Financial Operations and Controller
Cheryl Soper is the assistant vice president for financial operations and controller for the University of Michigan.  Her responsibilities include financial reporting and the integrity of all underlying accounting records; payroll; student billing and loans; accounting operations, including current and noncurrent fund accounting; and investment accounting.
Prior to joining the University of Michigan, Soper was a senior manager at PwC, where she provided accounting and auditing services to a wide variety of education, not-for-profit and other organizations, including SEC companies.
Soper, a B.B.A. graduate of the University of Michigan, is a certified public accountant and past chair of the National Association of College and University Business Officials (NACUBO) Accounting Principles Council. In 2010, Soper received the Daniel D. Robinson Accounting Award from NACUBO for her ongoing commitment to the advancement of college and university accounting and financial reporting. Soper currently serves on the NACUBO Higher Education Accounting Forum Planning Committee. Soper has also served on local community organization boards and finance committees.