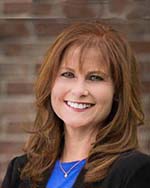 Assistant Vice President and Chief Procurement Officer
Tally Thrasher is the assistant vice president and chief procurement officer at U-M. In this role, she is responsible for all procurement operations, including strategic sourcing, the procure-to-pay platform, contract administration, procurement systems and software modules, the travel and expense program, the PCard program, and a number of auxiliary operational services.
These auxiliary services include print/copy/mail, space analysis, property control, and property disposition. U-M's Procurement Services Department manages an annual spend of $4+ billion and supports the Ann Arbor, Dearborn, and Flint campuses as well as Michigan Medicine.
Prior to joining U-M, Thrasher held a number of leadership positions in purchasing at Indiana University. Most recently, she was the executive director of purchasing services, where she led the implementation of a procure-to-pay system, worked to create opportunities for disadvantaged businesses, developed strategic sourcing teams, and created a customer-centric culture to support IU's employees and students.
Before serving as the executive director of purchasing services, Thrasher was the director of purchasing administration at IU, where she developed policies, established standards for contract negotiations, management, and evaluation, and served as the primary compliance officer between the Purchasing Department and various IU regulatory departments.
She has a B.S. in business management and an M.S. in strategic management, both from the Kelley School of Business at IU.