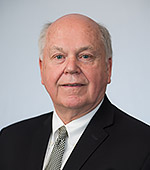 Director of Risk Management
Paul Moggach is the director of risk management at the University of Michigan. Moggach is responsible for risk management administration, including property and casualty insurance, risk financing (budget and unit recharge), information systems, Work Connections (integrated disability management program), claims, loss prevention/control, and Veritas (U-M's self-funded insurance company).
Before joining U-M, Moggach was the manager of the Hartford Insurance Group Claims office in Ann Arbor. He holds a B.S. in industrial technology from Northern Michigan University.